A Cannabis podcast hosted by a panel of cannabis growers from the UK, USA, Canada and Australia. We bring you weekly cannabis news from around the world, grow guides to help you learn to grow your own cannabis, and interviews with cannabis experts, authors, celebrities and medical patients. High on Home Grown is informative, funny, and entertaining. If you're looking for a podcast about cannabis, then you should definitely get High on Home Grown. Some of the guest on our cannabis podcast include legends like, Tommy Chong, Jorge Cervantes, Ed Rosenthal, French Cannoli, Dr Peter Grinspoon, Jordan River from Growcast, and many more! Our cannabis grow guides will take you step by step through everything you need to know about growing cannabis. From choosing what equipment you need to start a cannabis grow, to harvesting and making edibles. Everything is covered! So join us, catch up with some news, brush up on some grow knowledge, and get to know more about the people in the cannabis world. We look forward to getting High on Home Grown with you!
Episodes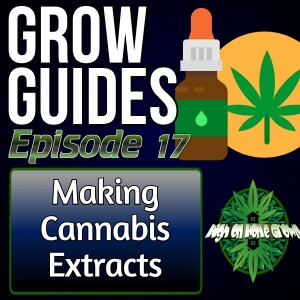 Friday May 06, 2022
Friday May 06, 2022
Cannabis concentrates and extracts are things like, cannabis oils, hashish, shatter and BHO. There are many different types of them. In this episode of our cannabis podcast we talk about the different types of cannabis concentrates and extracts. We also cover how you can make them, what they look like, and their potential potency. 
When you complete your first cannabis grow, you will see you have a lot of cannabis and you may be able to spare some to make some cannabis oils, maybe some hash too. So in this episode we let you know the different things you can make with your spare cannabis. Either by using the buds, or using the tip leaf after harvest! The choice is yours. 
If you need any help then please feel free to contact us on our website, Discord server, or any of your favourite social networks. Visit our website for links. 
Website: https://highonhomegrown.com
Discord: https://discord.gg/sqYGkF4xyQ
Youtube: https://www.youtube.com/highonhomegrown
Thank you for downloading and listening to our cannabis podcast! I hope you have enjoyed this episode.