A Cannabis podcast hosted by a panel of cannabis growers from the UK, USA, Canada and Australia. We bring you weekly cannabis news from around the world, grow guides to help you learn to grow your own cannabis, and interviews with cannabis experts, authors, celebrities and medical patients. High on Home Grown is informative, funny, and entertaining. If you're looking for a podcast about cannabis, then you should definitely get High on Home Grown. Some of the guest on our cannabis podcast include legends like, Tommy Chong, Jorge Cervantes, Ed Rosenthal, French Cannoli, Dr Peter Grinspoon, Jordan River from Growcast, and many more! Our cannabis grow guides will take you step by step through everything you need to know about growing cannabis. From choosing what equipment you need to start a cannabis grow, to harvesting and making edibles. Everything is covered! So join us, catch up with some news, brush up on some grow knowledge, and get to know more about the people in the cannabis world. We look forward to getting High on Home Grown with you!
Episodes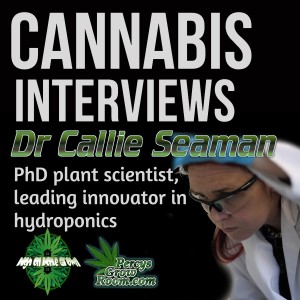 Wednesday Jun 08, 2022
Wednesday Jun 08, 2022
Here is our interview with Dr Callie Seaman. Monkey and Macky sit down with Callie to talk about the state of UK cannabis law, her work with GW Pharmaceuticals and much more. It was a real laid back friendly conversation and I hope you all enjoy it. You can find out more about Dr Seaman over on Facebook, Twitter and Instagram, just search "Dr Callie Seaman". 
Thanks as always for downloading the show, I hope you enjoy the interview!