A Cannabis podcast hosted by a panel of cannabis growers from the UK, USA, Canada and Australia. We bring you weekly cannabis news from around the world, grow guides to help you learn to grow your own cannabis, and interviews with cannabis experts, authors, celebrities and medical patients. High on Home Grown is informative, funny, and entertaining. If you're looking for a podcast about cannabis, then you should definitely get High on Home Grown. Some of the guest on our cannabis podcast include legends like, Tommy Chong, Jorge Cervantes, Ed Rosenthal, French Cannoli, Dr Peter Grinspoon, Jordan River from Growcast, and many more! Our cannabis grow guides will take you step by step through everything you need to know about growing cannabis. From choosing what equipment you need to start a cannabis grow, to harvesting and making edibles. Everything is covered! So join us, catch up with some news, brush up on some grow knowledge, and get to know more about the people in the cannabis world. We look forward to getting High on Home Grown with you!
Episodes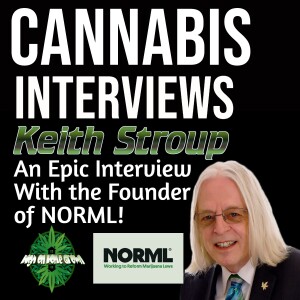 Wednesday May 17, 2023
Wednesday May 17, 2023
In this week's captivating interview, we have the privilege of speaking with a true legend in the cannabis community: Keith Stroup. As the founder of NORML, a groundbreaking organization dedicated to challenging cannabis laws in the USA, Keith has been at the forefront of the fight for over 50 years.
Join us as Keith shares his remarkable journey, recounting war stories, shedding light on the motivations behind founding NORML, and regaling us with his unforgettable encounters with icons like Hunter S. Thompson and Willie Nelson. This conversation is a rare opportunity to gain insights from someone who has played a pivotal role in shaping the cannabis landscape.
We are thrilled to bring you this epic interview with Keith Stroup, a passionate advocate for legal cannabis. Prepare to be inspired as we delve into the past, present, and future of the movement. Don't miss out on this extraordinary episode!
If you have any suggestions for guest to be on our cannabis podcast then please feel free to contact us on our website, Discord server, or any of your favourite social networks. Visit our website for links. 
Website: https://highonhomegrown.com
Discord: https://discord.gg/sqYGkF4xyQ
Youtube: https://www.youtube.com/highonhomegrown
Thank you for downloading and listening to our cannabis podcast! I hope you have enjoyed this episode.