A Cannabis podcast hosted by a panel of cannabis growers from the UK, USA, Canada and Australia. We bring you weekly cannabis news from around the world, grow guides to help you learn to grow your own cannabis, and interviews with cannabis experts, authors, celebrities and medical patients. High on Home Grown is informative, funny, and entertaining. If you're looking for a podcast about cannabis, then you should definitely get High on Home Grown. Some of the guest on our cannabis podcast include legends like, Tommy Chong, Jorge Cervantes, Ed Rosenthal, French Cannoli, Dr Peter Grinspoon, Jordan River from Growcast, and many more! Our cannabis grow guides will take you step by step through everything you need to know about growing cannabis. From choosing what equipment you need to start a cannabis grow, to harvesting and making edibles. Everything is covered! So join us, catch up with some news, brush up on some grow knowledge, and get to know more about the people in the cannabis world. We look forward to getting High on Home Grown with you!
Episodes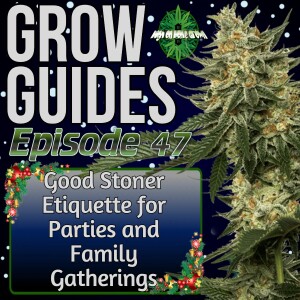 Friday Dec 23, 2022
Friday Dec 23, 2022
It's nearly Christmas, and many of us will be visiting family to celebrate. So we thought it would be a good time to cover good etiquette for family gatherings and parties over christmas. It is always good to set a good example on behalf of the cannabis community, so be polite and respectful with your cannabis use around none cannabis consumers :) This episode will give you some ideas and the best ways to do that.
We are taking a week off from this episode so there will be no downloads next week. But we will be returning ot the normal schedule in 2023! Have a great christmas and new year everyone, thank you for a great year.